Hotel Barcarola is open
Hotel guests are still welcome at Van der Valk Hotel Barcarola. The measures in Spain have an impact on our hotel and on the possibilities we can offer our guests during their stay.
From November 23 it is mandatory to show a negative PCR test upon arrival in Spain. This test must be no more than 72 hours old.
Throughout Spain, wearing a mouth mask in public is mandatory. Even when you are more than 1.5 meters away. Group formation of up to six people is permitted.
For current information, please refer to https://www.spanjevandaag.com/.
---
Curfew
A curfew has been in effect throughout Spain since October 25. Generally, it applies between 11:00 pm and 6:00 am. However, the curfew can vary from one Spanish region to another. In Catalonia it is between 22:00 and 6:00. Our hotel is open of course, we ask our guests to respect the curfew. Thank you for your understanding!
---
Restaurant
Our restaurant is open only to guests staying at our hotel.
---
Fitness
Fitness club Sant Poll is still open for you. However, you must use your own towel for all equipment. After using the equipment it needs to be disinfected. Our group lessons are still offered. Each person must have a space of 2 x 2 meters at his/her disposal. In addition, a maximum of 6 people are allowed in the gym and during the class.
---
Safe and secure
At Van der Valk, the health, safety and well-being of our guests and employees is a top priority. To ensure your health and safety, we would like to ask you to observe the following policies during your visit to our hotel:
Follow designated walking directions and hygiene measures.
Keep 1.5 meters away from other guests and employees.
Do not shake hands with fellow guests or hotel staff.
Wash your hands regularly and according to government guidelines.
Use paper towels to dry your hands.
Cough and sneeze into your elbow and turn away from fellow guests and hotel staff.
Pay preferably by debit card or contactless.
---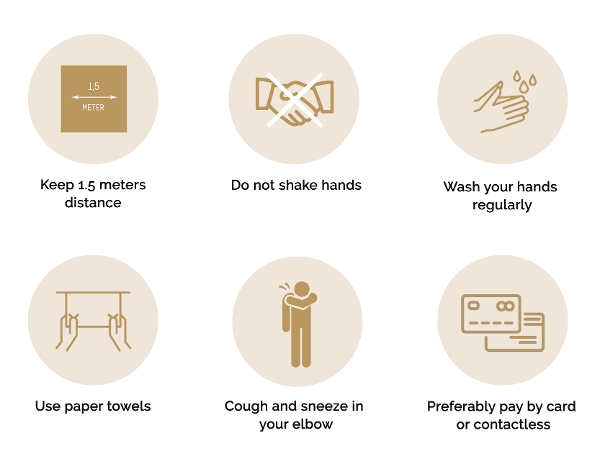 Do you have cold symptoms, such as rhinitis, runny nose, sneezing, sore throat, mild cough or elevation up to 38 degrees Celsius? Then we ask you to stay at home and not come to the hotel.
We will do everything we can to make your stay as safe and secure as possible. Thank you for your trust in Van der Valk and we hope to welcome you to our hotel soon. If you have any questions, please feel free to contact our reception.
With hospitable greetings,
Van der Valk family